AGC Cycle & Sled
40 Allyndale RD East Canaan, CT 06024 Phone: 860-866-6104
Ask us about our UTV tours




MOTOTRAX SnowBike kits at AGC Cycle & Sled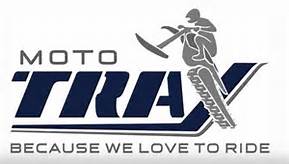 The MotoTrax Sno Bike Kit Difference
Our snow bike kits are the most responsive kits you can get for your dirt bike. The MotoTrax kit is the first and only snow conversion kit that boasts a fully pivoting skid that allows your new snow bike to ride like the dirt bike you are used to riding. Big jumps in CT? No problem! Even our Enduro kit comes with a single shock, rising rate suspension design and single swing arm so there are fewer hard landings. Convenience is also built into our kits with features such as automatic track tensioners and easy chain adjustments.

Will The MotoTrax Kit Fit My Dirt Bike?
MotoTrax kits will fit almost any dirt bike, turning it into a fully functional snow dirt bike for Connecticut. KTM , Beta, Honda, Husqvarna, Kawasaki, Suzuki, and Yamaha are just a few brand names that we produce fit kits for. Take a look at our available fit kits, check for your specific model, and start mastering the trails and powder! If you don't see your bike listed, give us a call! Chances are we will be able to make it fit and get you on the snow.
Do I have To Buy A New Kit If I Get A New Dirt Bike?
The short answer is no. The long answer is…well, no. Competitors might make you buy a new fit kit every time you change dirt bikes. We are not too fond of that idea and decided to exchange your fit kits call for more info on the exchange program.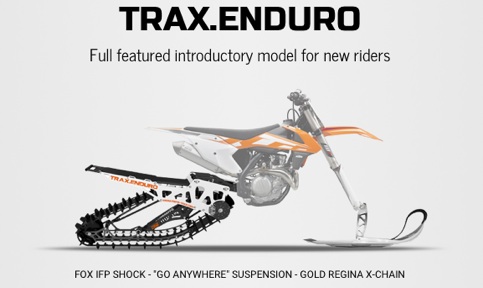 What makes this snowbike kit different?
The MotoTrax kit is the most agile kit on the market making it perfect for the back trails of ME or VT thanks to the industries only fully pivoting skid that makes it ride like the dirt bike it was meant to be. We also have a unique single swing arm, single shock design coupled with rising rate suspensions that provides a smooth, controllable ride on the trail while still being ability to handle any jump you throw at it. We have also added many convenience features such as the self-adjusting track and simple chain adjustment.

Why is the pivot important?
The MotoTrax MotoLink suspension has a ball joint where the swing arm connects to the rails, this allows the rider to lean the bike while on a trail in CT, VT, NH or ME like you would on dirt without lifting your track off the ground. This lean allows for the only true dirt bike like ride in all conditions!

How does the pivot affect side hills?
Our pivot actually improves side hills! This is because the MotoTrax Pivot allows both the front and rear of the skid to pivot, which actually allows for more track paddles to be in contact with the snow, giving you much better grip and stability.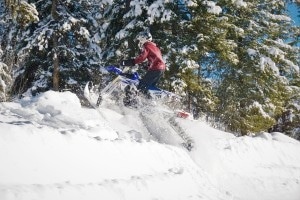 Why is your suspension so much better?
The suspension we use utilizes a single swing arm, single shock design, but the biggest difference is the rising rate linkage suspension. This suspension starts off soft, then gets harder as it goes through the shock stroke, this means that It has great bottoming resistance, but is soft in the initial stroke for those small trail bumps. Rising rate suspension is the same style that your dirt bike uses already! This will really help when riding the epic whoops of Woodford VT

How can you sell your kit for less than the competitors?
Through the use of efficient business practices, MotoTrax along with AGC Cycle & Sled in Canaan, CT has eliminated many traditional costs and have chosen to pass our savings on to you.

Where is the product made?
Our product is proudly made in the United States using parts from the United States and Canada.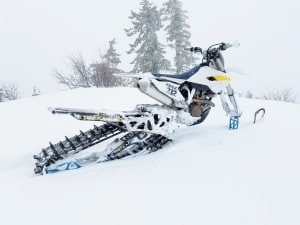 What bike is best for your kit?
This all comes down to personal preference, we always say if you like 2 strokes better on the dirt, you will like them better in the snow, same goes for the 4 strokes. When it comes down to engine size, it will vary greatly on the type of riding you do and the terrain you choose to ride. If you would like help deciding on a bike please call us at 860-866-6104.

Why do you run a 2 inch track for powder?
It is all about track speed! When we did comparison test side by side with larger lug tracks, we found that with a 2 inch track we were able to climb faster, and farther comparatively. We were also able to run a gear higher, and several thousand RPMs higher. This led to better performance from the bike, and the kit.

What is average install time?
This all depends on the knowledge of the person installing the kit. If you know how to remove the shock and swing arm from your bike, you should have no issues! First install can be done in about 1.5 hours, and installs after that should only take 45 minutes to 1 hour.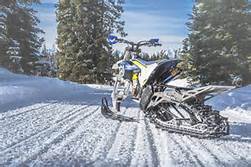 What is the weight added?
This is a hard question to answer because it varies from bike to bike. On average you can add around 50 pounds to the stock weight of your bike.

Hand brake or foot brake?
This all depends on your personal riding style, some people have the natural instinct to go with their foot when they need to stop the rear, where others like the use of the hand brake, this is all personal preference.

What model/track length is the best for me?
The best answer for this varies based on the snow conditions you ride in, your weight, and your riding style, and can be answered best by one of our product representative. Call us at 860-866-6104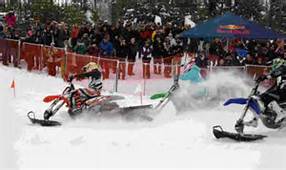 Do you have to modify the bike?
Not unless you want too, or the conditions warrant it. Sometimes in extreme cold or warmer temperatures, the bike may require slight modification to the cooling system, but for the average conditions these are not necessary.

Do you have any issues with bikes overheating, or not heating up enough?
We personally have not experienced these issues, if it is extremely cold then maybe, but as long as you are sure to let the bike reach normal operating temperature before riding, you should be good. As far as overheating we personally have not experienced this, but my suggestion is to increases the airflow over the radiators, by giving it some more throttle!

Where do you save weight over the competitors?
The MotoTrax kit saves weight in a couple key areas. The first is in the skid itself, due to the single swing arm, single shock design, we have less components making the system simpler and lighter. We have also saved weight on the ski mount system which does not require you to clamp to your fork tubes. And on the backbone of the kit, we have less bracing because the single swing arm moves the force exerted farther forward in the system where all of our bracing is.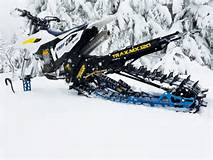 Why do you use brand name components?
We use these components because of the proven quality and success behind each and every one of the MotoTrax components.

Do you stock parts?
We stock many of the parts that you will need in order to ensure you are not slowed down at all, and can get to the mountain every weekend. These parts can also be shipped to your front door.

Why do you use a chain drive instead of a belt drive?
We run this system because It is easier to adjust, more durable, and more reliable. Also drivetrain misalignment is not a huge issue, and there is no concern for chain case leaks. When it comes to back country riding, MotoTrax builds their kits to get you there and back, safety and reliability are our #1 concern.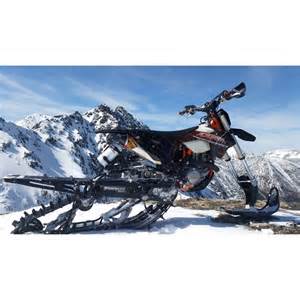 Why do you use a single swingarm suspension system?
This system is lighter, easier to adjust, and an overall simpler system. This means better reliability, and greater tuning for your specific conditions.

Why do I need rising rate suspension?
Rising rate suspension is the suspension of choice for every major motocross bike made today, so why change? This type of system absorbs the small bumps, yet still is able to handle even the biggest jumps. It can do this because rising rate suspension starts off soft in the initial stroke, and gets stiffer as it goes through the stroke.

Why does trail performance matter if I only go in the powder?
As much as we would like to be able to unload and ride in feet of flawless powder, we don't all have that luxury, so why should the trail be miserable? With MotoTrax you can have as much fun racing your buddy up the trail, as you do in the steep and deep. Good trail performance also means you can get to the powder a lot faster too.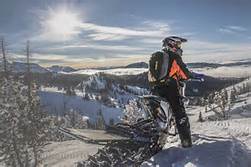 Why is your kit superior on the trail?
Trail performance is a tricky thing to accomplish. MotoTrax has succeeded through the implementation of our pivoting skid, which allows for 25 degrees of total lean, this gives you the ability to lean into turns just like your dirtbike. We also use the rising rate suspension which makes the small and large bumps on the trail hardly feel like they are there.

What gas cans will fit on your kit?
The frame section on the MotoTrax kit is designed to hold several different gas cans. We are able to fit the mountain addiction can, the MotoTrax Tuf Jug, RotoPax, and even your regular gas cans.

What accessories do you recommend?
This is all a personal preference, but some things we like to run are a Trail Tech computer, a Rekluse clutch, Handguards/Mitts, grip warmers, and if your bike has a battery we really like to run lithium ion batteries. Please call if you have any other questions regarding accessories 508-697-7567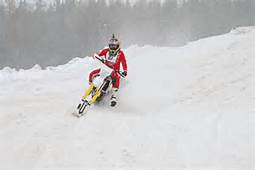 How much development has gone into the MotoTrax kit?
The MotoTrax kit has been under development for nearly 8 years. This have been many different models, and thousands of hours of testing in the most rigorous conditions.

What is the smallest engine CC size that your kit will work on?
We have run our kit all the way down to 250cc 4 strokes, which have plenty of power for trails and small mountains. They will not be able to do all of the same things as the larger bore bikes, but they are a lot of fun in their own right.

How do you load your snow bike into the back of a truck?
Because the MotoTrax ForkSafe mounting system can be switched so quickly, we usually will swap to a tire and run it up a normal dirt bike ramp. There are also specific loading ramps to leave your ski on if you so choose.

This is the lightest and simplest ski mounting system on the market today. It uses spacers that rest in your axle clamp holes. These spacers then lock into the upper ski frame. We use a long bar with a single flat side on it that rests underneath the bottom of your fork tubes to keep it from swinging backwards. This bar is a designed to bend under an extreme impact in order to protect your forks. This system means you no longer have to clamp to your fork tubes, or modify your fork guards so they can stay on.

Does your ski frame work with other skis/kits?
Yes! Our ski frame can run any of the other current snow bike skis and fits all bikes.